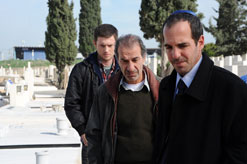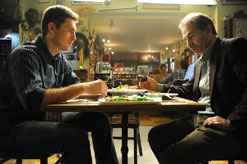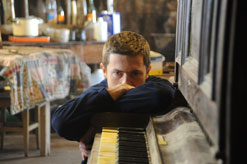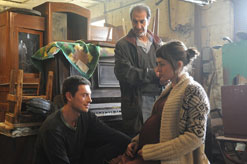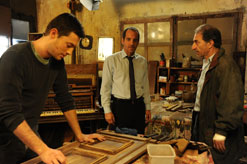 Related Categories:
- Drama


A Film by: Yossi Madmony
Screenplay by: Erez Kav-El
(Israel, 2011, 105 Minutes, Color, Hebrew, English subtitles, Cast: Sasson Gabay, Henry David, Nevo Kimchi, Sarah Adler, Ruth Borenstein)


Winner of the Best Screenplay Award at Sundance

.


Winner of Best Film, Best Music and Best Editing at the Jerusalem FF.
Winner of the Best Film award at Karlovy Vary Film

Festival.
Winner of the Grand Prix - Golden Warsaw Phoenix at the Jewish Motifs FF.
Official Selection to the Toronto Int'l Film Festival

.





When his business partner of many years dies suddenly, Yaakov Fidelman realizes his antique furniture restoration shop is on the point of bankruptcy. Fidelman's son, who doesn't get along with his father, wants to close the shop for good. "Without Malamud you are nothing!"

Fidelman

hears people say.





A ray of hope arrives in the form of apprentice Anton, who discovers an old Steinway piano in the back of the shop which could conceivably be spruced up and sold for big bucks. Will Mr Fidelman be able to establish peace within his own family and find

tranquility

within himself?



AWARDS, FESTIVALS & SCREENNINGS



Jerusalem International Film Festival 2011 - Winner of the Best Feature Film Award, Best Music Award and Best Editing Award

Sundance Film Festival – Best Screenplay Award

Karlovy Vary Film Festival – Best Film Award

Jewish Motifs Warsaw - Best Film Award


Toronto Int'l Film Festival – Official Selection

Nominated for 11 Israeli Film Academy Awards

Vienna Jewish Film Festival


UK Jewish Film Festival


World Cinema Ale Kino! Film Festival Warsaw


Rendez-Vous Istanbul


Hong Kong Embassy

Israeli Embassy in Zagreb


Filmfest Hamburg

Internetional Mediterranean Film Festival, Montpellier

Taipei Film Festival

Valladolid International Film Festival

Israeli Film Festival Tomsk Russia


Israeli Film Festival Novosibirsk Russia


Filmisreal - Amsterdam Israeli FF


Berlin Jewish Film Festival


Brazil Israeli Film Festival

Shalom Europe - Strasbourg JFF

Pitligiani Kolno'a Festival in Rome

Molodist, Ukraine 2013



Director Yossi Madmony & Producer Chaim Sharir victorious after Sundance FF (right) Karlovy Vary IFF (middle) and the Int. Juersalem FF.

QUOTES:
"
Those who appreciate a film in which things are expertly made or done will find one in "Restoration".

Gabay gives a terrific performance

...

the look is superb...the characters are well defined and the emotions genuine."
"An artfully elegantly made and intelligently nuanced film... a gently compulsive look at contemporary Israeli society, beautifully shot and a real tenderness and compassion on view."
(Screen International: Mark Adams)
"
Well-crafted story
that used to be a staple of European cinema and is rarely seen nowadays.
The story feels so real that one can imagine it continuing after the film is over
."
"
Beautifully crafted
, "Restoration'' is about
the things we value, and what's worth keeping
"
(The Boston Globe, Loren King)
"A reminder that Israeli cinema is often the most grown up in the world"
( Chicago Reader, Ben Sachs)
Links
:
Chicago Reader
*Not available for the USA and Canada
*Price Valid for DVD screening only -
For higher format please
inquire with us
.